This is a typical case of "but what if a bigger company copies you". Twitter just launched "better" email notifications, which is something we try to do with Topify.com . In theory we should panic, and say "crap, well we'll try next time"

We won't for 2 reasons. The most important one, what we provide (with all the due modesty) is way better. I am not talking about a little better. I am talking of X times better. More informations, more stats, integration of 3rd party data (for now MrTweet, soon more). And more importantly our emails are smart and actionable. You can follow back, block, unfollow and answer direct messages right from your email without having to go the Twitter page or open the Twitter client. If you are already following someone, we'll remind you so in the email (so you can either do nothing, or unfllow him)

This is where Topify brings value, because not only it helps spotting better worthy users but also improves your interaction with Twitter. Topify saves time and clicks. FYI to date we save about a 1/4 of a year in cumulated time to our users with our emails

Compare the new Twitter notification with Topify below. You get the point?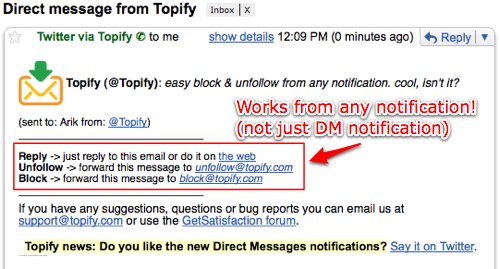 See the difference? It is not about the design, or the information but the experience that email can provide. We have too much respect and love for Twitter to say they copied our approach. After all we would not be there without them, but there is a very clear inspiration.

Twitter today implemented about 20% of what Topify does. Topify gives control back to users on email notification and is open to 3rd party services. I hope Twitter will take that direction too, but i am not sure they will be focused on that.

The second reason won't be disclosed but soon users will have way more reasons to use Topify than just Twitter.

My first reaction is some kind of pride to see a big fish taking the direction we initiated. It is confirming our initial approach and the vision behind topify is way beyond what you just see today. This is why this is just a great news for us.

Since we launched Topify (in private beta) we already experienced so many things: a few copy cats, a competitor who wants us to buy them, tremendous PR, thousands of daily fans, and now Twitter taking our direction. What's next?

update: that's interesting but i don't think i will have to push the message too much. Our users on Twitter are already doing it for us.. :)


jaym @OurielOhayon From a quick comparison of the new twitter follower email to @topify, it is pretty clear twitter still has a long way to go
--
this quote
was brought to you by
quoteurl
Technorati Tags:
twitter email topify